South African Safari
A Guide to Booking a Safari in South Africa
South African Safari 
Why choose a South African safari? South Africa is utterly unique. In no other place has the safari been perfected over such a diverse landscape.  The Cape is rich with sea life and unique flora. The expanse of the Kalahari provides a dramatic backdrop to rare sightings. The Kruger area is a dream come true for those who yearn for the classic Safari Experience. And when you are ready to trade in your dusty clothes for something more elegant, Cape Town and the Winelands are close at hand. Whatever vision you may have, South Africa is the answer.  
South African Safari vs. African Safaris: What is the difference? 
Deciding where to safari in Africa can be a difficult decision. However, both East African and South African Safaris have their own unique strengths.  
Wildlife
In both regions, you are likely to see a plethora of wildlife. South Africa is regarded as a more reliable area to see the Big 5. The five being African elephants, lions, leopards, Cape buffalos, and rhinoceros. Though in both East and South Africa rhinos can be rare. For fans of pachyderms, South Africa has a higher density of elephants. 
Accommodations
South Africa also tends to have more luxury and private accommodation on offer than other African safaris do, and East Africa has a higher density of tourists. In contrast, private game reserves in South Africa offer a more private and intimate experience for seeing the continent's wildlife.  
Safari Vehicles
Another difference is the choice of a safari vehicle. East African safaris tend towards enclosed vehicles. Whereas in South Africa, open-air Land Rovers are more common. This can provide a clearer viewing of wildlife and create a more intimate experience. 
Seasonality
Finally, East African safaris tend to close during the wet season, where monsoons are stronger. South African safaris tend to stretch into the rainy months. For some, the reduced rate during these times is a plus. For others, it can be a truly private experience as fewer people travel here during this time. 
South African Safari Locations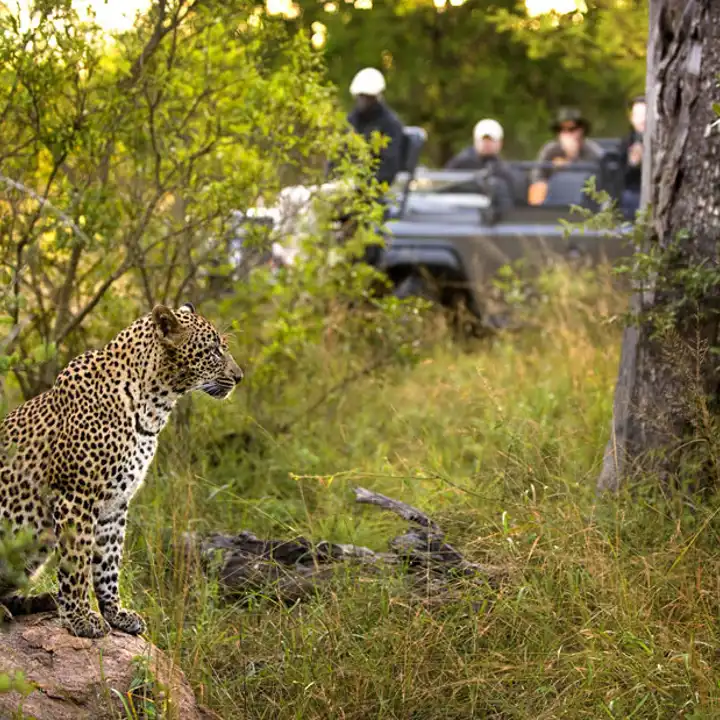 Kruger Area
Situated in the north-eastern area of the country, Kruger National Park is one of the largest game reserves, not just in South Africa, but in the entire African continent.
If you are looking to see and appreciate as much wildlife as possible, then a safari here is a sure bet. It is the proud home of many zebras, elephants, giraffes, lions, rhinos, buffalo, cheetahs, hippos, and many more – and is regarded as the best place in the world to spot a leopard in the wild! Kruger is also home to the endangered black rhino. 
Kruger spans over 7,511 square miles, and its terrain is made up of relatively flat plains, with 6 major rivers flowing through. Its vegetation varies from open to dense and overall makes for a diverse and satisfying safari experience with its varying landscape and wildlife population.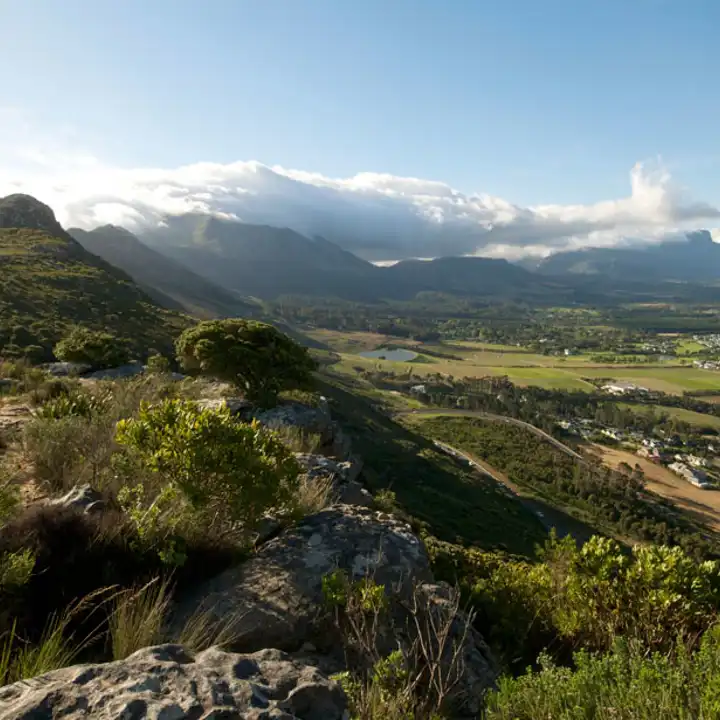 Western Cape
The Western Cape is located on the southern tip of the country and is where Cape Town is situated. Many people who choose to safari in the Western Cape do it so that they can combine their experience with a visit to Cape Town.  
It is still possible to gain an enriching and thrilling experience of a different kind of safari in the Western Cape, and many even offer extra activities, to ensure that your visit is an exhilarating one. 
For example, travel to Grootbos Private Nature Reserve to experience exhilarating whale watching, diving with great white sharks, and unique fynbos flower safaris. 
The terrain in the Western Cape is unique—it is a mix between mountains, the coast, and even a semi-desert, Karoo. Renowned for being beautiful and exclusive to the Western Cape, the landscape provides many visitors reason enough to safari in the Western Cape.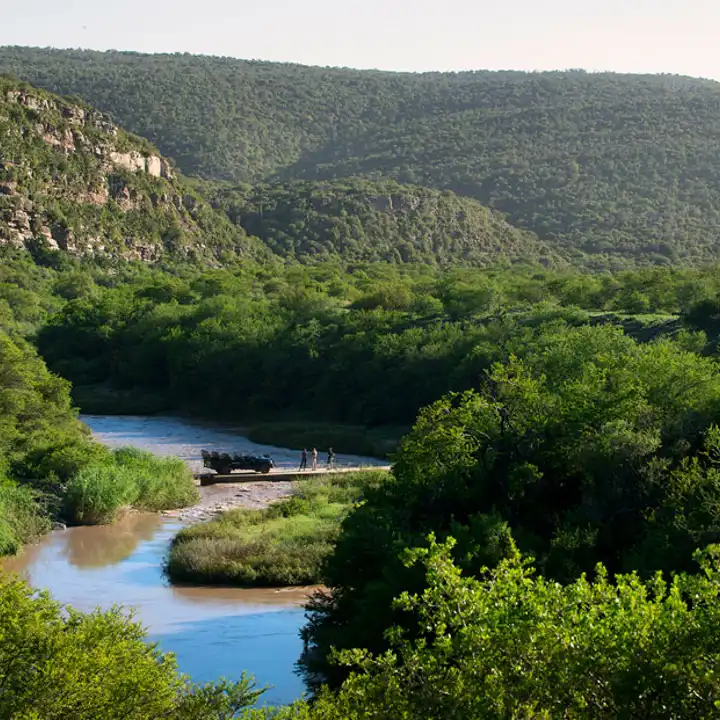 Eastern Cape
Situated in the south-east of South Africa, the Eastern Cape offers a rarer safari experience, with the untouched feel its landscape offers. The terrain is predominantly mountainous with rolling hills and dense vegetation. It is also surrounded by the coast of South Africa, and these waters are rich with marine life. 
Safaris on the Eastern Cape still offer an opportunity to see all the Big 5. The main animal that you may miss during your experience here are giraffes. However, the opportunity to spot some of South Africa's marine life, such as southern right whales, more than makes up for this. 
The Eastern Cape is also a malaria-free region, which offers peace of mind to visitors, particularly those traveling as a family. 
Sabi Sand Game Reserve 
Kruger National Park is internationally famous, but the adjacent Sabi Sand is the area's best-kept secret. The Sabi Sand Game Reserve is renowned for its concentration of wildlife and quality of experience. The game viewing is excellent. So excellent that sightings of elusive leopard are commonplace. You will have your fill of the Big 5 and more from open-top vehicles. The reserve is careful to not place too many vehicles in one place, preserving the peace for the animals and yourself. In addition, the luxury camps are some of the best in the region.  
Shamwari Private Reserve 
Many visitors on a South African safari divide their time between Cape Town and the Kruger area. In between, there are many solid choices. The Shamwari Private Reserve stands out among them. Most big-ticket game, including rhino, are plentiful. While the reserve is also a haven for many endemic species as well. South Africa's Mediterranean coastline is close by. Go for a swim at a beautiful beach or explore the Garden Route nearby. Shamwari highlights South Africa's diversity of choice. 
Phinda Private Game Reserve 
Self-described as 'Seven Worlds of Wonder' this beautiful game reserve is where forest, wetlands, grasslands, mountains, and rivers all meet. Located in the KwaZulu-Natal, it is one of the best places in Africa to see cheetah. It is an especially good place to visit for anyone interested in birdwatching, being home to 436 species of birds. With its closeness to the Greater Saint Lucia Wetland Park, you will be able to easily explore the abundance of Indian Ocean sea life. 
Pilanesberg National Park 
Located in the Bojanala Region outside Johannesburg, Pilanesberg National Park is rich in wildlife. To safari here is to experience the Lowveld and the Kalahari at once. The region moves from wet to dry. On safari, see how wild dog, roan, sable, and the Big 5 have adapted—all the better to witness from Pilanesberg's plentiful photographic hides. Hides provide differing excitement from vehicles. Watch as antelope, zebra, and other animals interact without being conscientious of the vehicle or you. Pilanesberg's wide-open spaces are a perfect pairing to South Africa's typically hilly landscape. 
Waterberg 
The Waterberg region has been harboring human life for thousands of years. This gem of the Limpopo Province has been Eden to wildlife for much longer. Like most destinations on this list, the Big 5 are front and center. In addition, it is a sanctuary for threatened species like the Cape vulture. The best place to experience the drama of the Waterberg is Marakele National Park. Marakele itself means sanctuary, and in this sanctuary, you can witness all the richness of life. 
Madikwe 
Madikwe is a kindred spirit to the Sabi Sand, but with important differences. Both have excellent game viewing, exclusive access, and luxury accommodations. But where the Sabi Sand is hilly, Madikwe's landscape is gentle and rolling. As an added bonus you are more likely to see both black and white rhino, along with wild dogs. After a long day on the lookout for these rare creatures enjoys a sundowner. Watch as the sun sinks into the distance as the big sky fills with countless stars.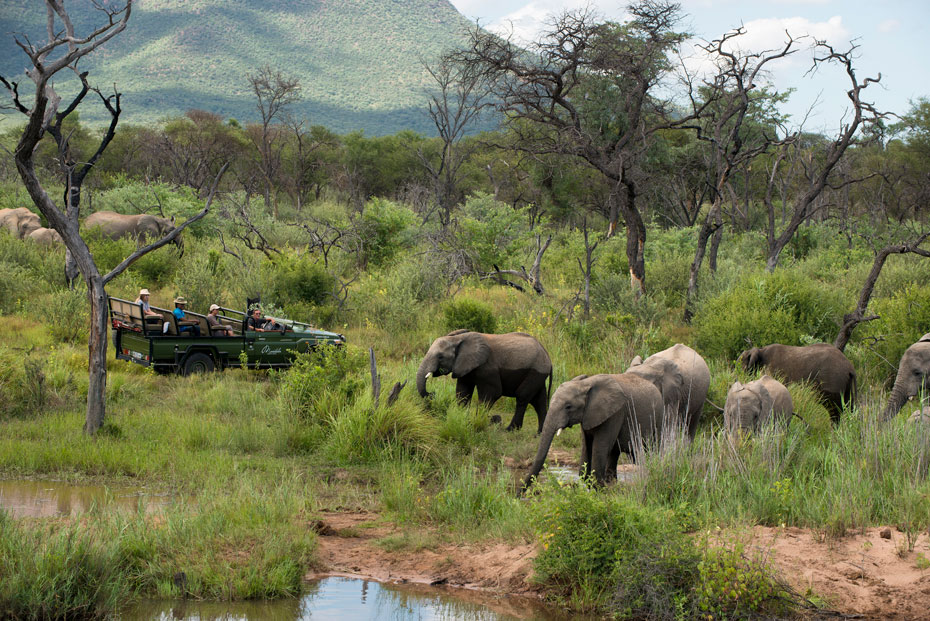 Weather in South Africa
Weather in South Africa is largely very pleasant from cool, high-elevation climes to Mediterranean bliss. But a savvy traveler will not be caught without a change of clothes for a chilly night or a balmy day on safari. 
Rainy Season
The rainy season in South Africa usually occurs from September to March, during the South African summer months. As it can reach up to 81°F in summer, the rainfall can provide a refreshing break. However, in popular safari destinations, such as Cape Town and the Eastern Cape, – the weather is slightly different.  
Eastern Cape
The Eastern Cape is on the colder side of South Africa, with daily average temperatures reaching around 75°F. The rainfall occurs mainly at night, and the Eastern Cape boasts lush green landscapes all year round. The best time to visit tends to be from late August until early May. 
Cape Town
Cape Town and its surrounding area can be cooler than the rest of the country. September through March is the best time to visit with daytime temperatures averaging 71°F. These summer days are often dry and sunny. For the remainder of the year, temperatures are cool.
Kruger 
For the rest of the country, including the popular South African safari hotspot of Kruger, it is best to visit during the dry season, which takes place between April and September. As the rainfall levels are low, the animals will gather around the water they can find, providing a better chance at spotting wildlife.  
Things You Need to Know Before You Go on Your Safari 
Bring a camera with a good zoom – chances are you're going to want to capture some of your safari experienceto share with friends and family, and Many phone cameras tend to become create pixelated images if you try to zoom from any distance, so these photos will most likely disappoint you. 
Also, being on a South African safari is one of the most immersive and intimate experiences of a lifetime. – Do not let your phone to distract you from any of your time spent here. 
For your antimalarials, speak to a doctor. 
Ask your guides and drivers questions – if you don't opt for a self-drive, don't hesitate to ask your driver questions! Chances are they'll be just as excited as you are and more than happy to share all that they know. Don't waste any of your experience by wondering in silence. and hearing your drivers tell their stories can make for some of the best parts of your trip. 
Camps and lodges can be remote – A short flight in a small aircraft will probably be necessary. With small planes, weight and space are valuable. Be sure to bring soft-sided luggage and check for weight limits. Usually, 2 bags are allowed weighing up to 44 pounds, including any hand luggage. 
Book a South African Safari
For more information on planning the perfect South African safari, reach out to us.