New Star Wars Filming Locations to Explore
The galaxy far, far away is closer than you think, and we are highlighting new Star Wars filming locations that are out of this world. Read on to see how you can combine them with unique Ker & Downey experiences in Europe.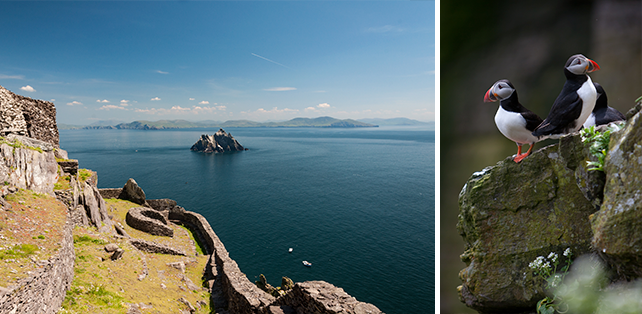 Ireland
Skellig Michael
In the 7th century on Skellig Michael, monks lived and prayed in stone beehive huts. At the top of the steps of this steep island, amid these huts and actual stone ruins, Rey and Luke Skywalker first meet at the conclusion of Star Wars Episode VII: The Force Awakens.
While landing on this fragile and beautiful UNESCO World Heritage Site is possible by very special arrangement, you can't miss exploring all of the Skellig islands by private boat. Your marine cruise with an expert Ker & Downey guide will reveal the second largest colony of gannets in the world. Additionally, you may see families of puffins, the quirky avian inspiration for some of the newest Star Wars creatures: porgs.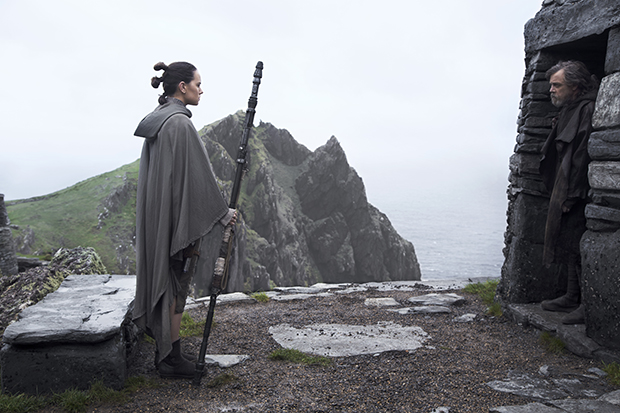 Photo: Jonathan Olley ©2017 Lucasfilm Ltd. All Rights Reserved.
More New Star Wars Locations to See in Ireland
In addition to the Skellig Islands, Malin Head, the northernmost point of Ireland, is a lunar-like headland that certainly looks alien. You can see its windswept landscape and ancient archaeological remains in Star Wars Episode VIII: The Last Jedi. For the most immersive experience, take a short (but steep) bike ride along the coast. Indeed, a guided hike over the dramatic coastal cliffs reveals an almost 360-degree view of the Atlantic.
If you crave a little woodland privacy, stay in an exclusive-use cottage in magical Puzzlewood. You may recognize it as the location of Kylo Ren's snowy confrontation with Finn and Rey in The Force Awakens. Since it is also the inspiration for JRR Tolkein's forests of Middle Earth, you'll satisfy two fandoms in one place.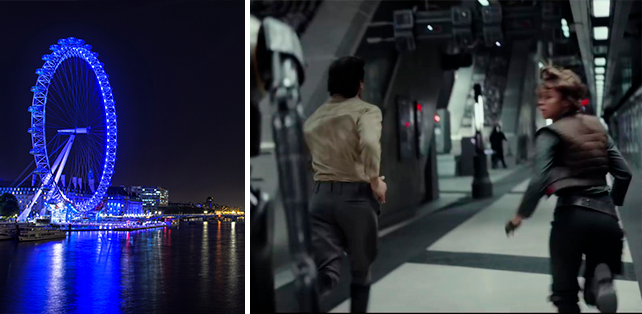 England
Canary Wharf Station
Smack in the middle of London's financial district you'll find the Imperial base from the planet Scarif, as featured in Rogue One. The steel and glass of this modern station made the perfect home for stormtroopers, droids, and heroes in Imperial disguise. As such, Director Gareth Edwards had the station closed for a grueling overnight shoot to take full advantage of the futuristic setting.
After you see the new Star Wars location at Canary Wharf Station, take an action-packed journey fit for a rebel along the Thames. Climb aboard your very own RIB boat and speed over the river at 35 knots—almost like hyperspace travel. You'll go whizzing past the iconic sites of London, under the bridges to Canary Wharf and back again. For movie buffs, Ker & Downey can also arrange a private visit to Pinewood Studios, also home of the James Bond and Harry Potter movie magic.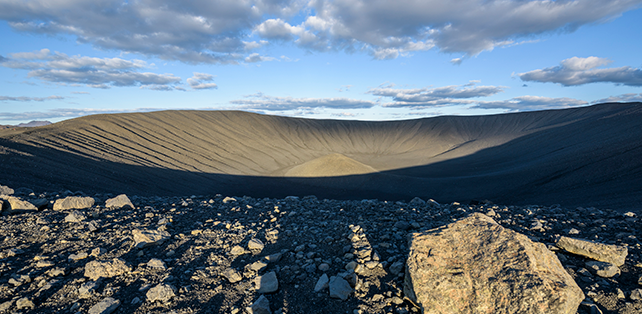 Iceland
Krafla Volcano
Many of the new Star Wars: Rogue One scenes on the planet Eadu were shot near Krafla Volcano, located in the northern reaches of Iceland. This region is considered among the most beautiful and simultaneously catastrophic environments in the country. As such, we think it's perfect for an adventure. With Ker & Downey you can visit the Krafla Volcano area and see the power station that relies on geothermal steam energy. You can also soak in the Mývatn Nature Baths nearby.
More New Star Wars Locations to See in Iceland
Then head south to the village of Vik and the black sand beach of Reynisfjara to see more of the planet Eadu. Experience the South Coast's volcanoes and beaches on an exclusive quad biking tour with Ker & Downey. This experience includes a traditional Icelandic lunch inside a cave. It then concludes with a walk among the basalt columns of Reynisfjara black sands.
Old and New Star Wars Locations
You can also visit the filming locations from the original Star Wars films—read about them here. Also take a look at our prequels locations blog to explore the planets of Naboo and Mustafar, too.
Customize your own journey to the new Star Wars filming locations across the world with Ker & Downey. So contact your luxury travel consultant to get started.
All Star Wars images appear courtesy of Disney.