Men's Safari Packing Guide
What to Take on an African Safari
We are often asked what you should pack for a safari. Here you will find our men's safari packing list for a 10-14 day safari in southern and eastern Africa (excluding a Kilimanjaro hike). The number one thing to consider when packing for an African safari is do not over pack. Small chartered flights adhere to strict weight restrictions for all luggage.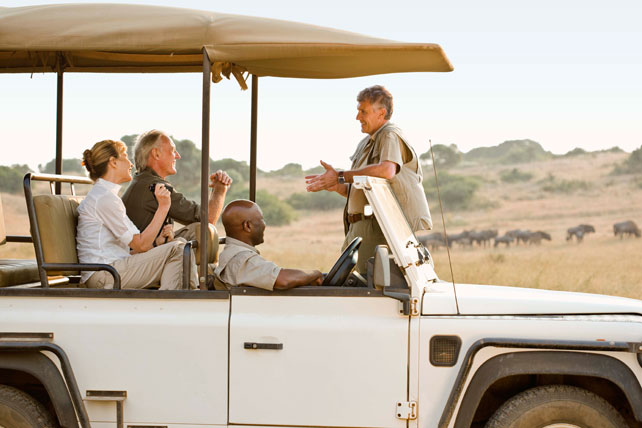 In most cases, you will want to dress mainly for outdoor comfort in lightweight, loose-fitting clothing. Cotton and cotton/synthetic mixtures are most comfortable. Safaris can also be dusty, and while game viewing, the most practical clothing is tan, khaki, and other neutral colors. In the evenings, you'll want an informal change of clothing for dinner. In the austral winter, you will need a heavy sweater or jacket when game viewing or spending any time outside in the early morning and evening.
Disclaimer: Some of the links below are affiliate links. As an Amazon Associate, Ker & Downey earns a small commission when you click through and make a purchase.
Men's Safari Packing List
3 pairs of light cotton pants or pants that convert to shorts
1 pair of long cotton pants suitable for walking in the bush
1 pair of jeans or other casual long pants for the evening
3 cotton t-shirts
1 pair of lightweight hiking or walking shoes. In most cases, shoes like these Merrell sneakers will be sufficient and can pull double duty as hiking/walking shoes, and casual shoes for the evening so you can save space in your luggage. We're also big fans of New Balance trail running shoes for how lightweight they are and how well they pack. In general, you will not need heavy footwear unless you plan to do a great deal of walking.
1 pair of comfortable shoes for the evening
1 pair of flip flops or sandals for use in your room, at the spa, or around the pool
4 – 6 pairs of socks
6 pairs of undergarments
1 wide-brimmed hat, especially to wear in safari vehicles while driving in the parks, as the tops are left open for game viewing and photography. This one packs nicely and resumes its shape!
1 swimsuit
1 bandana for dust and/or cooling
1 lightweight jacket or windbreaker
Optional Items You May Want to Pack:
1 safari vest for camera equipment; for chilly morning and evening game drives, consider a compressible vest when you need just a little bit of extra warmth.
small personal flashlight
universal wall plug adapter kit
Don't forget to pack any medications you are currently taking at your time of travel. You should also consider packing your preferred pain relievers, lip balm, sunscreen, antiseptic cream, personal toiletries, and an insect repellent of your choice. Most camps will have these items on offer, but if you have a preference and the room in your luggage, by all means, take it with you.
What you Shouldn't Take with You to an African Safari
The number one rule when packing for an African safari is don't pack too much. In Southern Africa, each person is limited to 44 pounds on the small aircraft. In East Africa, each person is allowed just 33 pounds. To save on weight, pack in a soft-sided duffel. Laundry is available at most of the safari camps so you really only need to pack for a few days. There are a few properties that will not wash undergarments, but your designer can assist you with verifying those properties. If you wish to wash out your personal items while traveling, we suggest using a multi-purpose soap like Dr. Bronners to save space.
To help save on weight, don't pack heavy hiking boots. Sneakers with a good tread like those we mentioned in our packing list above should be sufficient.
Stay away from brightly colored clothing and camouflage patterns. Avoid dark blue and black, which tend to attract insects like tsetse flies.
In an effort to reduce waste, don't pack with plastic bags. When packing your toiletries, use transparent toiletry bags instead.
Remember, countries in Southern and Eastern Africa do not run on 120v like in the United States. In addition, most safari camps run on solar power or generators. They won't be able to carry the electrical load from your hairdryer, straightener, or electric razor from home.
You can find our packing list as well as a few other packing suggestions to get you safari-ready here.
To start planning your safari, contact your Ker & Downey designer.