Do your international flights have you planning an Istanbul layover? You could spend weeks exploring Istanbul, this anciently modern behemoth on the Bosphorous—and both of the continents it straddles. But this city of 14 million's most magical moments can be condensed for a quick jaunt, too. 
Erin Weinger takes a whirlwind spin through the history, style, and culinary crossroads of Turkey's most alluring metropolis.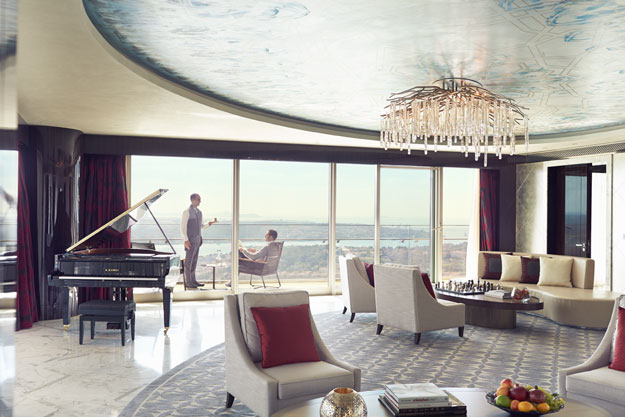 Sights
As one of the world's most important centers of ancient civilization, there's no shortage of momentous landmarks to take in—the first being the Hagia Sophia, a Greek Orthodox cathedral constructed in AD 537 that was later turned into a mosque—with major historic high points in between. Now a museum in the midst of a grand restoration, the building melds many religious eras, as well as gold-flecked mosaics, drool-worthy marble work and a 183-foot-tall dome that will leave you thinking about the meaning of life.
While in the old city section of Sultanahmet, the Blue Mosque, just across from Sophia, is also worth a visit for the 20,000 tiles that line its 15th century domes. (Go during non-prayer times and don't forget to wear socks.) Nearby, the Basilica Cistern, the largest of the city's ancient underground water storage tanks, houses two mysterious Medusa head columns.
If you can only see one palace during your layover in Istanbul, it should be Topkapı Palace, a UNESCO World Heritage site where Ottoman sultans lived from 1465 on. The fist-sized emeralds and rubies in the palace's treasury rooms are jaw-dropping and the imperial table settings strewn throughout the property's kitchen wing leave you longing for a new set of dishes from the bazaar, stat.
The Asian side of the city has its own distinct flavor, and chartering a boat off the Goleta Bridge for a two-hour spin down the Bosphorus is the best way to see the magnificent, grand 18th century Ottoman residences and the handful of various Sultan summer palaces that dot the Asian waterfront.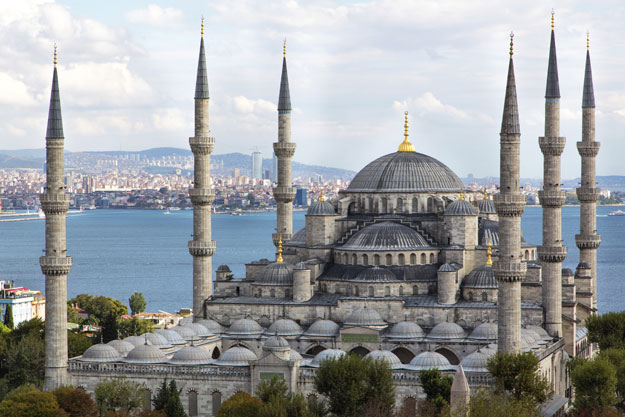 Culture
No layover in Istanbul is complete without a visit to the Grand Bazaar, a covered, 3,000-stall market built in 1456 where you'll find everything from Turkish glass art to antique gold jewelry to vintage Rolexes and towels. You could spend hours here and drive yourself mad, but notable stalls include Cashmere House, where cashmere shawls in every color of the rainbow abound, and Sait Koç, a family-owned, locals-favored jewelry emporium known for colored stones.
A quick five-minute walk from the Bazaar lies the Egyptian Market—better known as the Spice Market—which is a smaller, more manageable option and features plenty of edible delights and quality leather goods. Also in the Sultanahmet old city section, Nakkaş Rugs exports their new and vintage pieces to some of Los Angeles and New York's most boldfaced design shops. While there, make sure to ask owner Cengiz Kara about his antiques store around the corner, which houses the gilded, bejeweled costume jewelry of Husain, a local designer whose metalwork has appeared in Brad Pitt's Troy.
If antiques and one-of-a-kind design objects are your thing, the Çukurcuma neighborhood is worth a stroll for its barrage of interior shops and, as an added bonus, offers convenient access to Nobel laureate novelist Orhan Pamuk's enthralling Museum of Innocence (not to mention a cup of caffeine at stylish, friendly Holy Coffee nearby).
Over in a converted warehouse in the industrial Tophane area, the Istanbul Modern is an easily digestible, two-story glimpse into the Parisian-influenced Turkish contemporary art scene from the 20th century until now (and also offers cool, well-priced geometric jewelry by Örge Tulga in the museum's unique gift shop). After, walk to the uber-cool Karaköy 'hood just a stumble down the Bosphorus coastline, where a quaint Parisian-style passage yields Kağıthane, an energetic paperie featuring handmade invitations and kebab-clad notebooks by Turkish makers, as well as Fashion@Eye, journalist-turned-eyewear purveyor Hakan San's epic selection of old-school specs by everyone from Christian Dior to Thierry Lasry. Before you leave Karaköy, the brand new marble, star-shaped skylights and ancient architecture of the circa 1580 Kılıç Ali Paşa Hamam (a Turkish bath) will leave you in awe—as will your new soft and refreshed skin.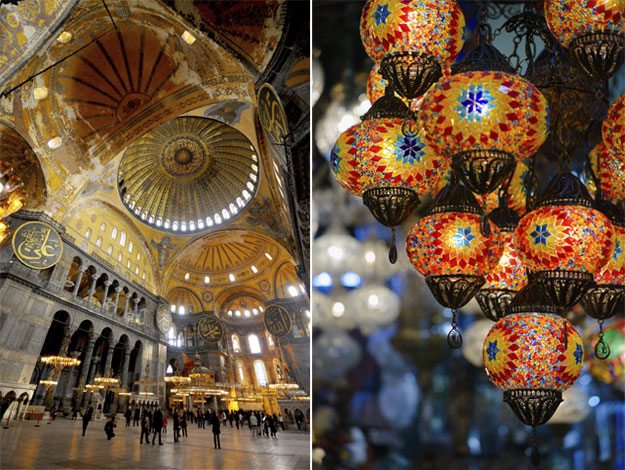 Restaurants
Contrary to popular belief, Turkish food is more than just mezze and lamb kebab. In the Tepebaşı neighborhood, Bekir Kaya's trendy, two-story Cok Cok offers innovative Thai fare (think chili ice cream and coconut milk chicken soup) in a space designed by notable Singaporean architect Kay Ngee Tan. A few doors down, enjoy one of the best views in town with a martini at Mikla atop the Marmara Pera hotel.
For authentic Tuscan and Roman dishes dating back to the middle ages, grab a seat on the tiny, romantic terrace of cozy Antica Locanda in Arnavutkoy. Frankie at the minimalist Sofa Hotel in posh Nişantaşı also comes with a view, plus Chef Symeon Triantafyllou's famous stuffed artichoke and an impressive local wine list.
Turkish food purists will revel in more than 20 types of kebabs at Hamdi, a 30-year-old local chain. While those seeking a truly authentic, ancestral lunch can't miss the ever-changing, seasonal mezze at Çiya Sofrası, internationally renowned Chef Musa Dagdeviren's super low-key lokanta (tradesman restaurant) on the Asian side of town.
Over in cool Karaköy, Colonie is the hottest spot in the city, featuring an innovative, industrial interior by Turkish-born, Paris-based designer and artist Koray Ozgen as well as mini wood-fired pizzas and grilled nigiri sushi. Can't get a coveted Friday night table? Try for lunch, or stop by owner Gülin and Yücel Özalp's other trendy, locals-favored property Topaz, which will debut its own Ozgenled facelift come spring.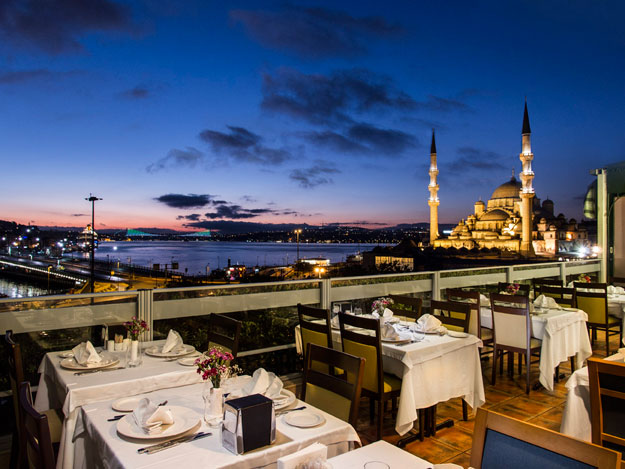 Getting There
A mere 12 and a half hours from Los Angeles, a direct Turkish Airlines flight to Istanbul's Atatürk Airport is the perfect preamble to your adventure, offering a true taste of the country's hospitality and, most importantly, cuisine. In business class, start with a dizzying array of mezze followed by a creamy vegetable soup, Turkish beef filet, a cheese course and Turkish coffee before waking up to your customized breakfast order. It's all served on china by a white hat-clad chef, all from the comfort of your lay-flat seat that comes with gate-togate Wi-Fi.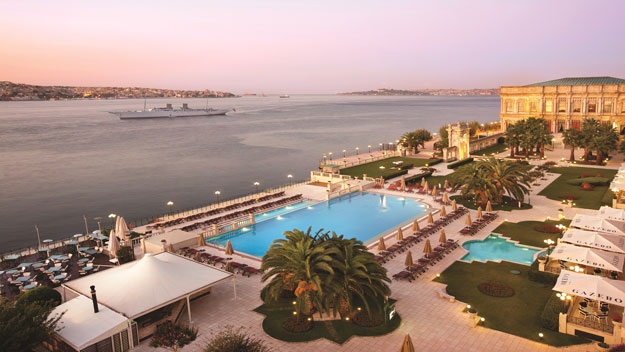 Hotels
Depending on mood, there are a few different routes you can go when choosing your Istanbul accommodation. For an old-world experience, the Çırağan Palace Kempinski—a Bosphorus-adjacent Ottoman palace built in the 1860s—is elegant and refined, with dark wood tones and stately Turkish marble baths in each of its 313 rooms. Attached to the 25-year-old hotel portion of the property is the palace itself, which houses Europe's second largest chandelier, as well as the posh, polished Tugra Restaurant, where an entire underground kitchen is devoted to making baklava (11 varieties of it, to be exact).
The design obsessed may never want to leave their suite at the Witt Istanbul, a warm, 17-room boutique property that channels a bit of Brooklyn (there's an organic foods market across the street) in the city's hipster-laden, walkable Cihangir section. But it's worth leaving if only for the cinnamon-infused Turkish coffee and cheese-filled Sigara Böreği pastries served at the intimate, inclusive lobby breakfast. Into cool street art? Ride the elevator and make sure to watch the wall as you move.
For some luxury retail therapy at the Prada and Fendi stores that dot the city's shiny new Zorlu Center and a "New Turkey" feel that mimics a Vegas and Dubai mashup, the glittery Raffles Istanbul is not to be missed, with technologically advanced rooms (think motion-detected climate control and motorized blackout curtains) that come complete with walk-in closets, butlers, iPads and stand-alone soaking tubs that—with the right corner view—offer its bather a picturesque look at both the old city's glowing minarets as well as a sprawling skyscraper-in-progress skyline. Press open those motorized curtains—the view is just as magical in the morning while eating the hotel's rich, traditional Turkish breakfast in bed.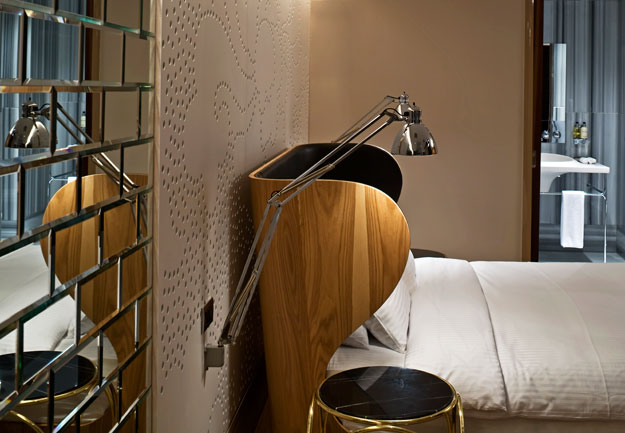 Let the travel experts at Ker & Downey help you plan your Istanbul layover. For more information, contact your Travel Professional or visit us online at www.kerdowney.com. Be sure to stay up to date on all of QUEST's online content by following the QUEST Facebook page.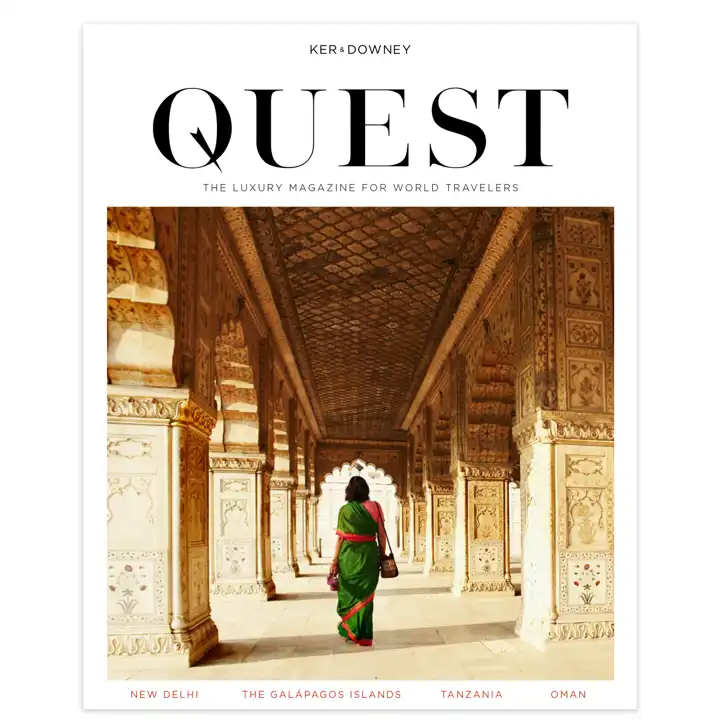 The Travelog
Quest Magazine
Dedicated to the experiential style of Ker & Downey travel, QUEST Magazine features eye-opening content that focuses on unforgettable experience, unheard-of destinations, and the very best our world has to offer. Each issue is packed with insider information, what's new in the world of travel, and editorial pieces that focus on our global culture, philanthropy, and transformative travel.
Read Issue 4