Gather Around the Table
The Best Foodie Experiences in South Korea
From traditional street food to royal court cuisine, these are the best Korean foodie travel experiences in South Korea.
By Haley Beham
How many people planted gardens or learned to make sourdough bread from scratch last year? With all the extra time at home on our hands, it was the right time to try something new. There are those of us like me, however, who simply survived. And one of the ways I survived was by using a meal kit service to relieve the stress of trying to plan healthy meals for my family. And that's when I was introduced to bulgogi and bibimbap.
You might have guessed by now that a foodie I am not. But I do desire to serve my family tasty and healthy meals that my kids will eat and not just pick at. So, when they devoured the Korean dishes, I paid attention.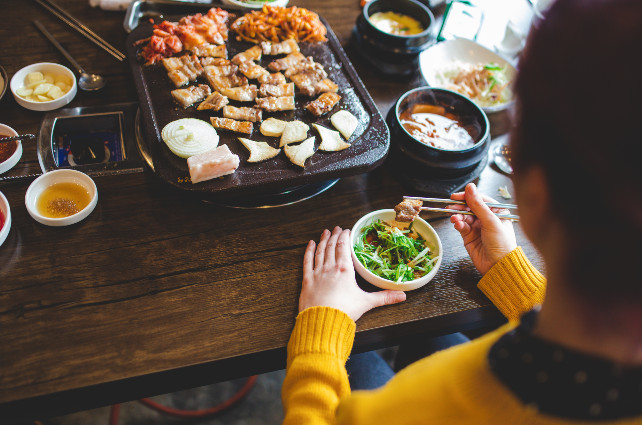 There's a lot to love about Korean food. Not only is it incredibly flavorful, but it is also some of the healthiest food on the earth. Seasonally driven and packed with vegetables and meats cooked with little oil, it is easy to see why Koreans consider food to be medicine. They even attribute their longevity to a daily intake of kimchi (salted and fermented vegetables) with at least one meal.
But beyond the flavorful and nutritional aspects of Korean cuisine is the philosophy that food is meant to be shared around a table together with people you love. Traditional food requires a lot of time to prepare. The commitment and care it takes to create the dish display an expression of love for the people gathered around your table.
The culture surrounding Korean food led to the creation of banchan, side dishes served on small plates on the dining table. It's paired with large portions of several main dishes and steamed rice, all of which are meant to be shared.
I may not be a foodie but sharing a meal with my family that nourishes both the body and the soul is a tradition I can get behind!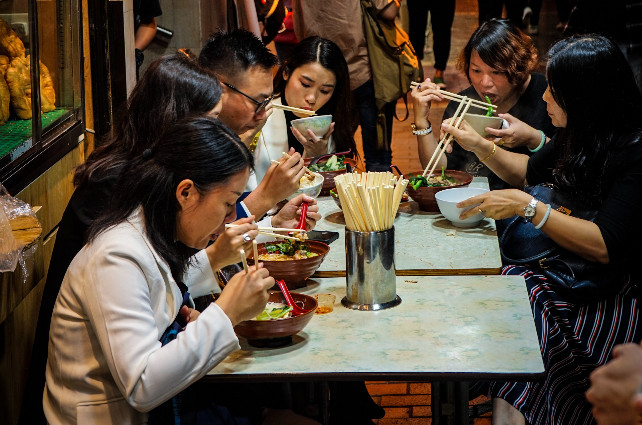 The Best Korean Foodie Travel Experiences in South Korea
From traditional street food to royal court cuisine, here's how to eat your way through South Korea.
Cooking Class in Seoul: Learn the basics of Korean cuisine during a cooking class at O'ngo Food Communications. You'll pick up a few tips and tricks to take home with you while making your own kimchi and bulgogi.
Street Food at Gwangjang Market: At Gwangjang Market you can find 5,000 stalls selling hanbok (traditional Korean clothing), traditional Korean street food, and innovative fusion cuisine. It's famous for its mung-bean pancake (bindaetteok). Not only have the traditions of Korean food been passed down from generations, so have the stalls. It's not uncommon to visit a stall that's been in the family for multiple generations.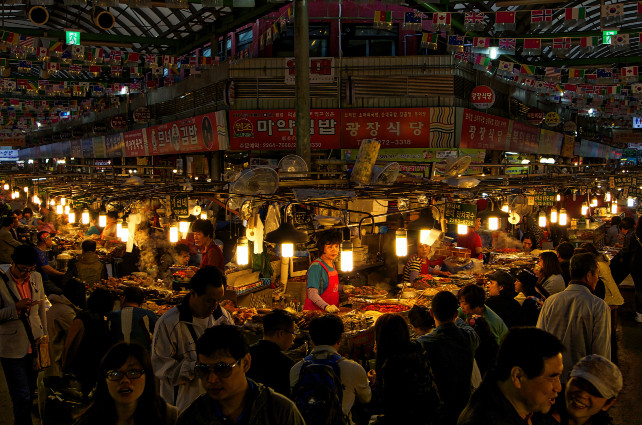 Temple Cuisine with a Buddhist Monk: The 12th-century Buddhist Jinkwansa Temple sits on top of a mountain and is the preeminent location for Korean temple cuisine. Buddhist nuns run the entire temple. For centuries they have grown, cooked, and eaten the Korean temple food to practice Buddhist teachings.
Seafood in the Port Town of Busan: Jagalchi Fish Market covers nearly two miles of space, much of which is indoors. Visitors can stop here with their guide and select fresh seafood. Then they prepare it for lunch or dinner at a nearby dining establishment. The market is famed for the "Busan wives", a tradition of women who sold any foods or sundries they could at Busan's street markets during the Korean War to care for their children while their husbands were away fighting.
Bibimbap in Jeonju: The traditional Korean dish mixes more than 30 ingredients selected according to the ancient wisdom of yin and yang and the five elements into one pot. A far cry from vegan Korean temple cuisine, Jeonju-style bibimbap typically features thinly sliced beef and an egg. Additionally, spicy gochujang chili pepper paste and kimchi accompany it.
Korean Royal Cuisine in Seoul: The Joseon Dynasty was the peak of royal culture in Korean history. The best cooks in the court prepared the meals for the king. They used the highest quality ingredients procured from across the country. The royal table, called surasang, was served with 12 dishes. These included rice and soup, as well as a stew, hot pot, kimchi, and sauces. Both white rice and sweet rice accompany the dishes. The most common soups were miyeok-guk(seaweed soup) and gomtang (beef bone soup).
Korean BBQ in Busan: Unlike American and European-style short ribs, which include a thick slice of bone-in beef, you cut Korean-style short ribs lengthwise across the rib bones. The result is a thin strip of meat, about eight to ten inches in length, lined on one side with 1/2-inch thick rib bones. A server usually brings it to the table raw. Then the diners cook the meat themselves on tabletop grills. For a rich flavor, marinate the dish in the sweet and savory sauce containing soy sauce, garlic, and other herbs.
For more Korean foodie travel experiences, check out Handcrafted South Korea: Culture and Cuisine. You can read the full issue of Quest: The South Korea Travel Guide here. Let Ker & Downey's team of destination specialists craft the perfect trip for you. Contact a Ker & Downey designer to begin planning. For even more travel inspiration, follow us on Instagram.