Beyond the Borders
On a Mission to Save a Species
Through Rhinos Without Borders, a new generation of rhinos are providing hope for the future of the species in Southern Africa.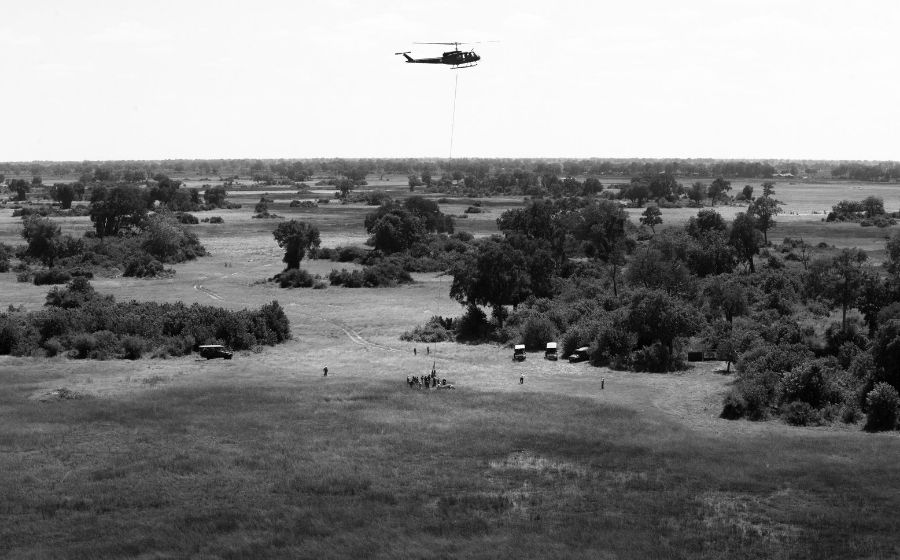 In the 1900's, scientists estimated that only 50 white rhinos remained in the wild. Heroic conservation efforts brought that number up close to 20,000 by 2008. In recent years, however, the population has started to decline. Similarly, black rhinos saw a sharp decline in population due to poaching between 1970 and 1993. Today, only about 5,600 black rhinos remain in the wild.
Clearly the rhinos need rescuing.
Rhinos Without Borders
In response to the large numbers of poached rhinos, Great Plains Conservation launched Rhinos Without Borders in 2014. Its goal was to translocate 100 rhinos from poaching hotspots in South Africa to safer safari environments in Botswana where they could be closely monitored using specially designed telemetry devices.
Since 2015 Rhinos Without Borders has successfully translocated 87 rhinos. Whenever you embark on a conservation project, you are looking for markers of success. Is the animal thriving in its new habitat? Has it integrated into a group? And perhaps most importantly, is it breeding? Reproduction is the ultimate litmus test as to whether an animal is thriving after relocation.
More than 50 babies have been born to translocated rhinos since the project began.
This milestone is huge and worth celebrating.
In 2015, Ker & Downey donated $70,000 to move one rhino from South Africa to Botswana.
Following our donation to the project, we were given the honor of naming the rhino whose relocation we funded. We named her after Ma Palmer, a deeply loved stalwart of Ker & Downey Botswana's development into a leading source of photographic safaris. Now Ma Palmer's spirit lives on in the rhino we relocated — a pioneer in the re-establishment of the rhinos in Botswana.
What's more, Ma Palmer has given birth to a calf named Angela, named after a dear friend of Great Plains Conservation, who spent hours upon hours encouraging others to donate to the project and participate in philanthropic travel.
This new population of rhinos is giving tremendous hope for the future of the species. Currently, Rhinos Without Borders is focusing their efforts on the security of these animals. Experienced teams of monitors are on the ground and in the air, working daily with the Botswana government and rhino conservation stakeholders to ensure the safety of the rhinos.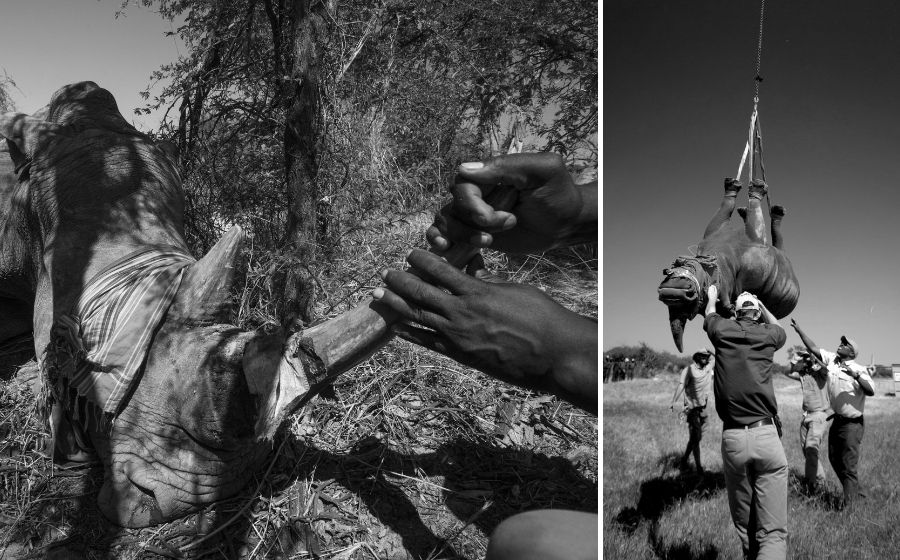 All photos courtesy of Great Plains Conservation Rhinos Without Borders
How You Can Help
Constant monitoring isn't cheap. When you book a stay at one of Great Plains Conservation's properties through Ker & Downey, a contribution is made to the Great Plains Foundation, which supports Rhinos Without Borders, as well as other conservation projects.
No two trips are alike. Our designers are at their best when crafting a journey unique to you. Contact a Ker & Downey designer to start planning your safari today. In the meantime, for daily travel inspiration, follow us on Instagram and Facebook.