Due South: An Antarctica Honeymoon
As Seen in QUEST Magazine
A pair of adventurous newlyweds travel to the edge of the earth.
Introduction by Haley Beham;
Words & Photography by Austin Mann and Esther Havens Mann.
When you think of a luxury honeymoon destination, does Antarctica spring to mind? Probably not. Remote, rugged and cold, it's not exactly the stuff luxury honeymoon dreams are made of. Or is it?
For photographers Austin Mann and Esther Havens Mann, life is defined by extraordinary adventures. Austin is a travel photographer who spends time flying all over the world to test and review Apple's latest products. Esther is a humanitarian photographer who works on social awareness campaigns in lesser-traveled areas of the world. Together, they have traveled all over the globe, so when it came time to plan their honeymoon, the destination had to be somewhere unique and unexpected.
Austin took the reins on planning with Esther's only input:
"I don't care where we go, as long as there's a warm beach."
Was she in for a surprise, or what?
Using their own words and images, Austin and Esther share their unconventional honeymoon experience.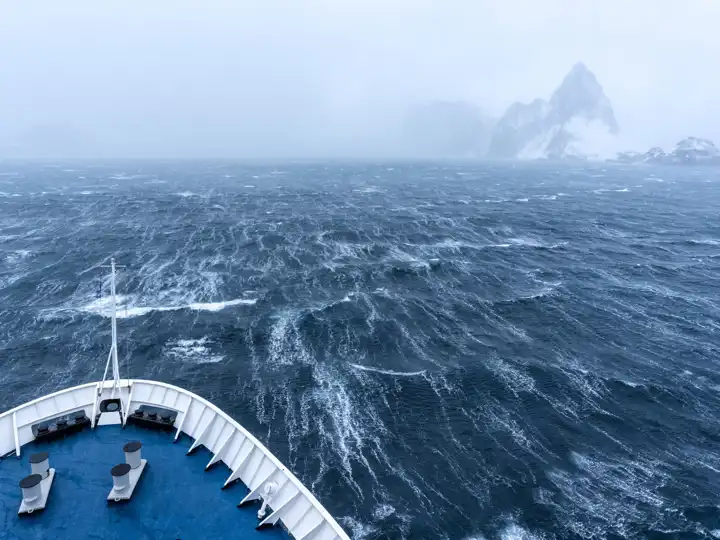 We were married in November
and flew down to Argentina, where we connected with Quark Expeditions and caught a flight to Ushuaia, the southernmost tip in South America. From Ushuaia, we boarded the boat with 187 other passengers for 18 days at sea. Antarctica would be Esther's sixth continent to visit; for me, it was my final frontier.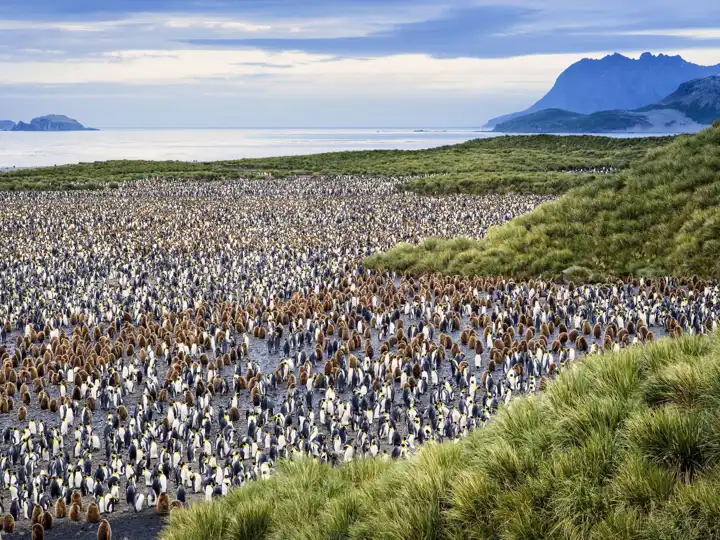 From Ushuaia, we sailed
to the Falkland Islands and then onto South Georgia, where the penguin habitat is flourishing. It's common to see colonies reach more than half a million and the sound of 500,000 penguins honking is pretty surreal. South Georgia is a treasure that isn't on many people's radars, but if you are a birder, it's the trip of a lifetime with an incredible diversity of birds from penguins to pipets.
South Georgia is a treasure that isn't on many people's radars, but if you are a birder, it's the trip of a lifetime...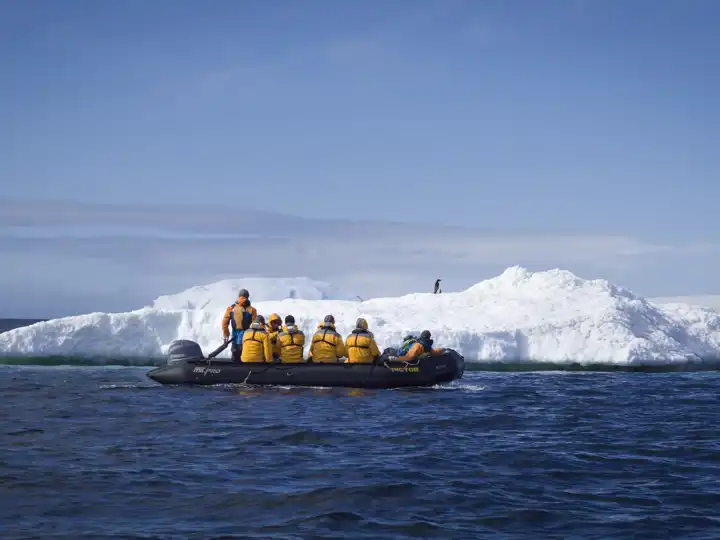 When you aren't at sea,
your days are balanced on and off the ship. Morning excursions by zodiac with various land- and water-based activities can last up to four hours. We had lunch onboard the boat while it moved to another location, then we set off for another afternoon landing by zodiac. The boat's staff and guides are passionate about showing passengers Antarctica. Each guide has an expertise — a marine mammal specialist, penguin specialist, photographer, mountaineer or expert on glaciers — and gives afternoon lectures on their topic.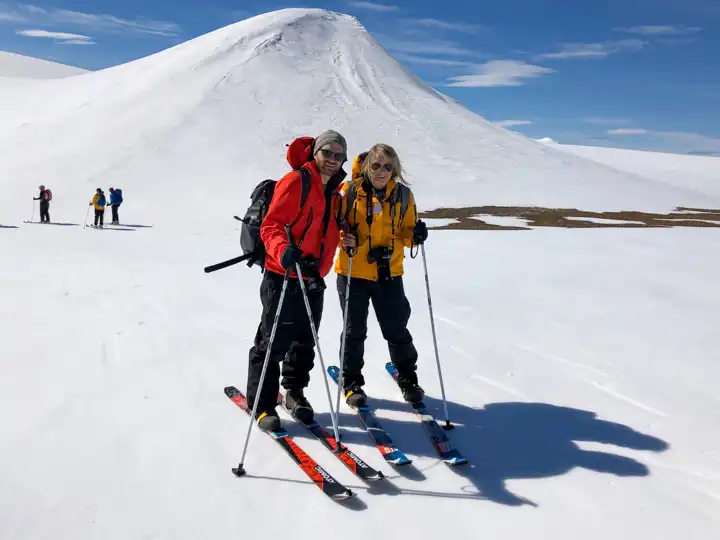 Our first sight of Antarctica
came two days after sailing from South Georgia when we reached Elephant Island, made famous by explorer Ernest Shackleton. Winds upwards of 75 miles per hour made it impossible to land so we had to wait until the next day to finally step foot onto Antarctica. Once on land, we spent the morning cross-country skiing and taking in the wildlife and views of the vast, white wilderness, icebergs, and sea ice. A cheeky penguin spent part of the excursion tobogganing next to us.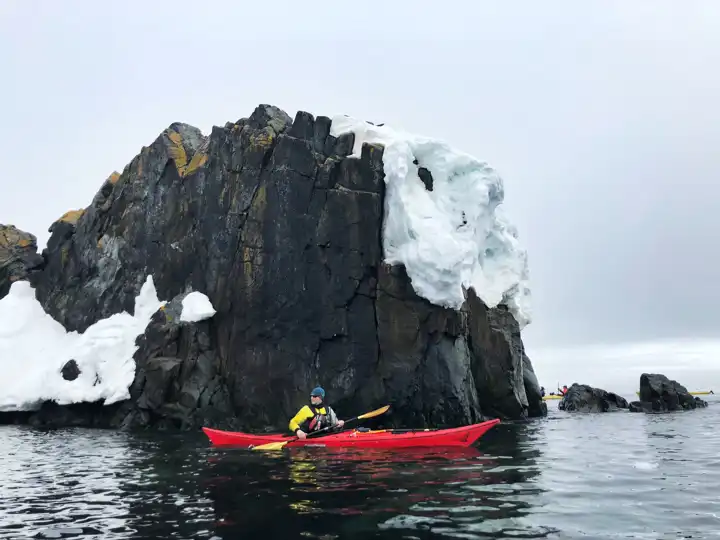 Besides landing at Antarctica,
sea kayaking was a highlight of the trip for us. With only 15 people on the kayaking expedition, it was a tranquil, peaceful experience that offered a different perspective. We were silent for 10 minutes, taking in the sounds of ice falling, penguins honking and the ice floating bay.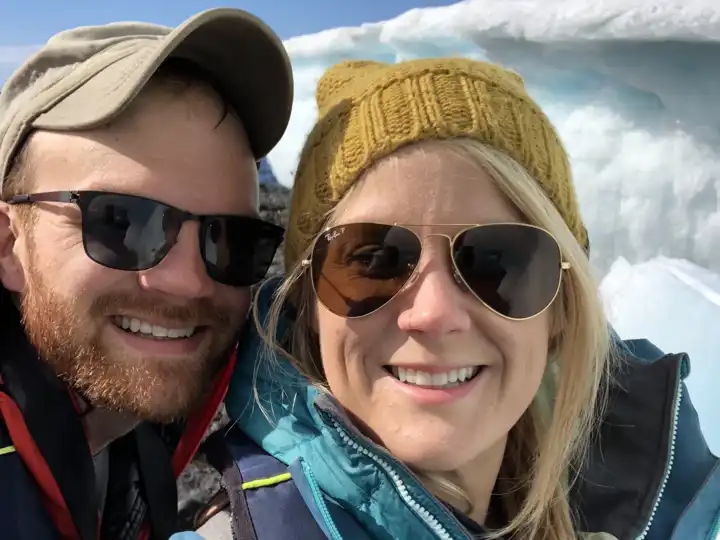 Because you won't have service
on the boat, you can be fully present in the moment and take in the experience. Although there were 187 other passengers onboard, we were still able to grab alone time during quiet meals, in the sauna, while getting a massage or in the various places to take in the views from the boat. And while Antarctica might be an unorthodox honeymoon spot, a luxury adventure together with your new spouse is a special way to start off a marriage.
Pro Tip! 
Invest in a pair of UV filtering glacier glasses. The leather flaps on the sides will stop the light from passing through and give you the best view of the Antarctic glaciers. 
Take an Antarctica Honeymoon with Ker & Downey
Contact one of our Luxury Travel Experts to start planning your luxury Antarctica honeymoon, or a journey to anywhere else in the world with Ker & Downey. For daily travel inspiration, follow us on Facebook, Instagram, and X.
The Travelog
Quest Magazine
Dedicated to the experiential style of Ker & Downey travel, QUEST Magazine features eye-opening content that focuses on unforgettable experience, unheard-of destinations, and the very best our world has to offer. Each issue is packed with insider information, what's new in the world of travel, and editorial pieces that focus on our global culture, philanthropy, and transformative travel.
Read Issue 9