An Exploration of South Africa's Winelands by Private Helicopter
The Winelands of South Africa offers some of the most beautiful scenery in the country and excellent wineries that have received awards and accolades throughout their history. They are a quick drive from Cape Town, but we think the best way to see them is by air in a private helicopter!
There are dozens of reasons to visit South Africa: stunning five-star luxury lodges, incredible game viewing year-round in malaria-free game reserves, rich history, beautiful cities, and world-class restaurants serving innovative dishes. The Cape Winelands produce superior wines, in addition to its strikingly beautiful scenery. And with the Cape vineyards beginning just thirty minutes outside of Cape Town, a day trip to several vineyards for tastings and tours is an easy excursion.
The Winelands in South Africa's Western Cape are vast, stretching from Cape Overberg in the Southwestern Cape into the Northern Cape, with wine routes that are among the most scenic in the world. The Cape Winelands have a long history of wine production with the first local wines produced in 1659. Because of its Mediterranean climate, soils, and the air from the Atlantic and Indian Oceans, the area is ideal for growing grapes. In the Stellenbosch region alone, there are close to 200 wine and grape producers. Stellenbosch was the first wine region to establish a wine route. Expect to find spectacular Cabernet Sauvignon, as it is the regions most widely planted grape, and Bordeaux Blends, a combination of Cabernet Sauvignon and Merlot grapes.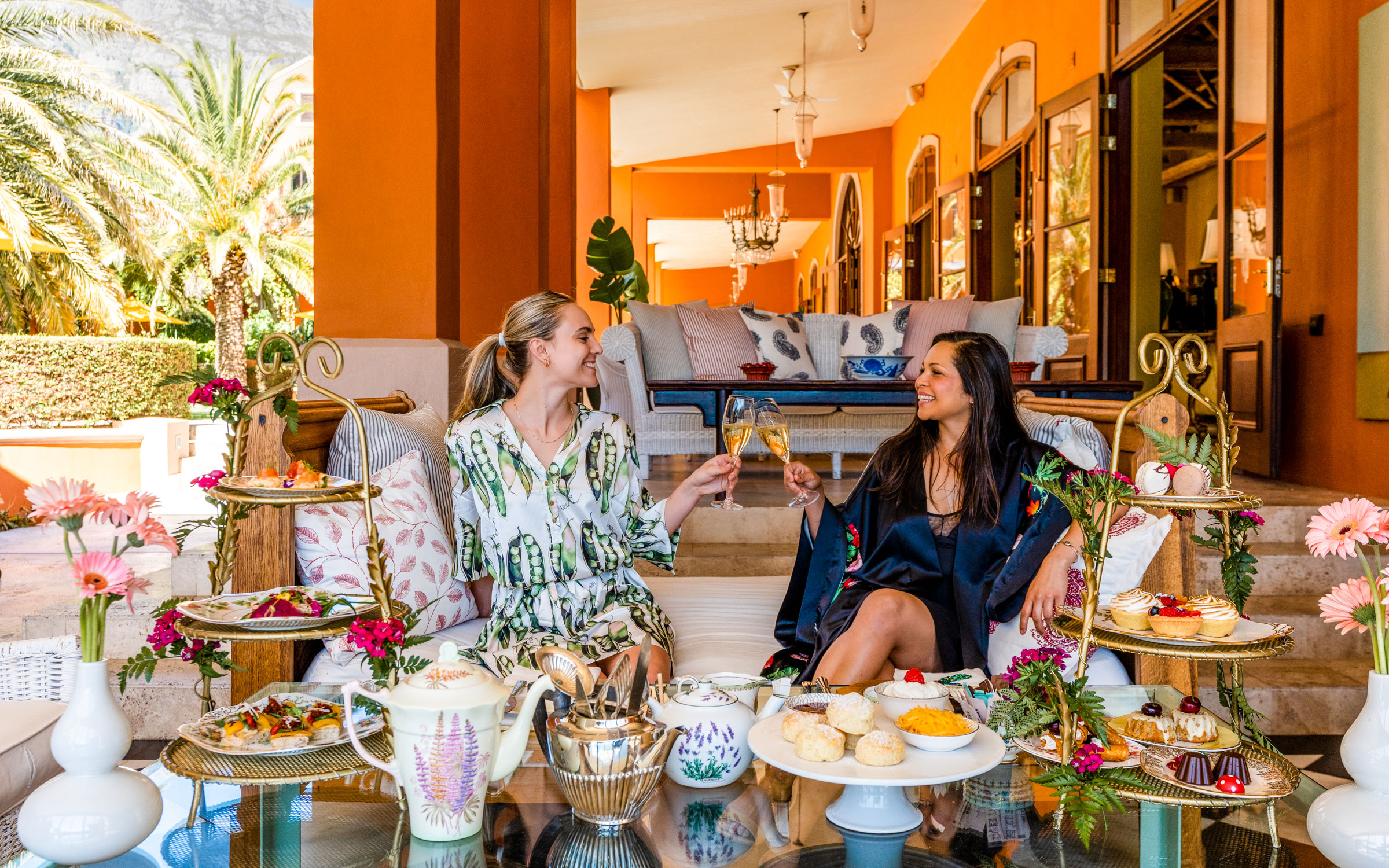 Just an hour's drive from Cape Town, you'll find Franschhoek, home to more than 40 wine estates producing Semillon, Chardonnay, and Cabernet Sauvignon wines. Franschhoek, which means the 'French Corner' in Dutch, is set in a peaceful valley surrounded by vineyards and mountains. It was established by French Huguenots in the 17th century and their influence can still be seen today in the colonial architecture that houses numerous art galleries, antique shops, and gourmet restaurants. It is also home to La Residence, an intimate all-suite villa and one of our favorite properties. The elegant hotel is set on a private 30-acre estate, surrounded by vineyards, plum orchards, and mountains. It is part of Liz Biden's Royal Portfolio collection and her meticulous attention to detail can be seen throughout the hotel from the Indian chandeliers and original artwork that hangs on the walls, to the colorful and plush furniture and individually designed and decorated suites showcasing influences from around the world.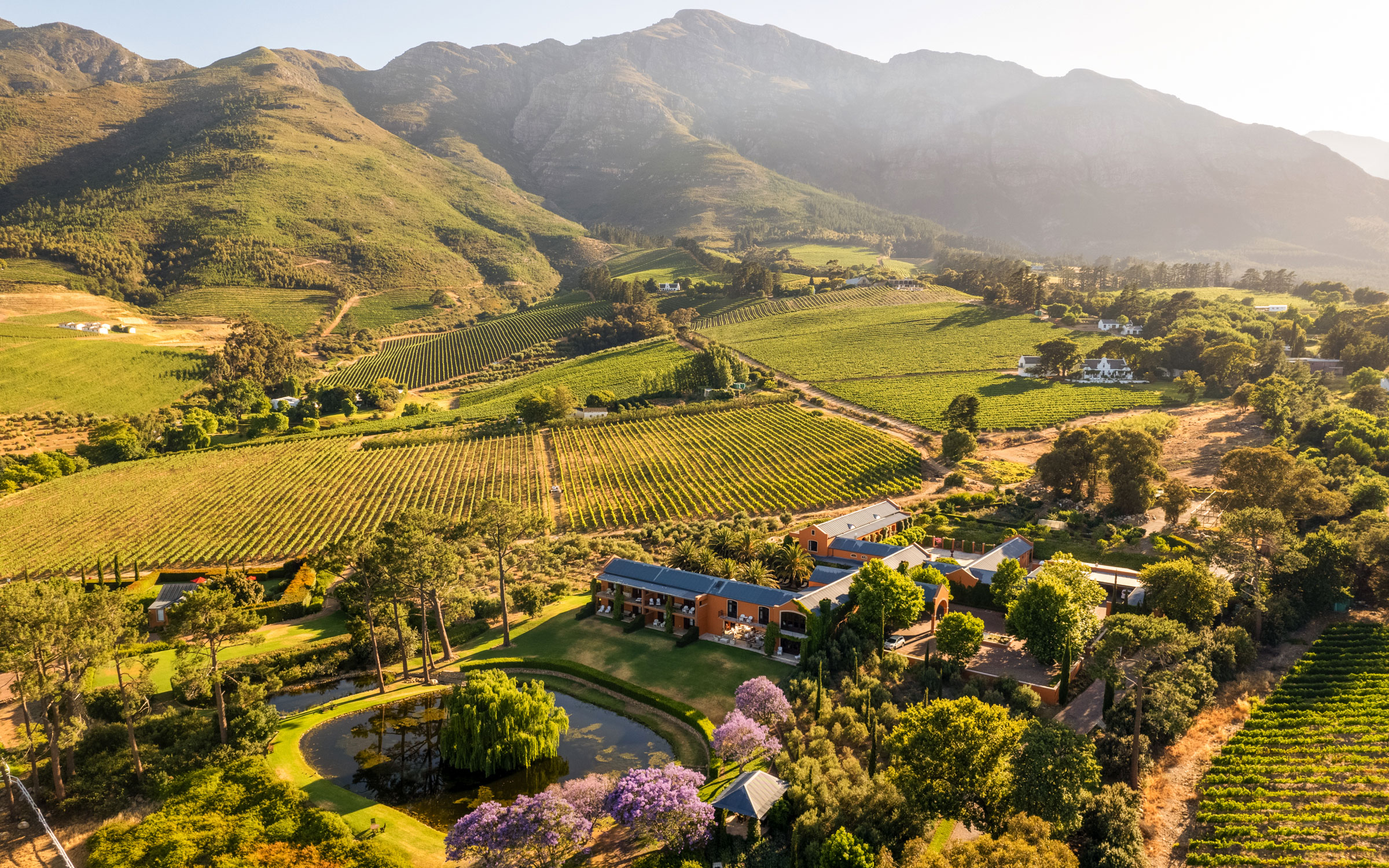 From La Residence, exploring the Winelands is both easy and thrilling with their private helicopter tour. After a leisurely breakfast at the hotel, you'll meet your waiting helicopter on the lawns of La Residence for a flight to the nearby region of Swartland and home to Mullineux Family Wines in the Riebeek Valley. The small family winery is run by husband and wife team Chris and Andrea Mullineux, who put out their first vintage in 2008 and have since produced some outstanding Syrahs, Chenin Blancs, Grenache Blancs, Clairettes, and Voigniers. You'll enjoy a cellar tour with the winemaker and a tasting of the wide range of wines.
Afterwards you'll enjoy a scenic flight high over the mountains to the Walker Bay region on the East coast of the Western Cape where you'll land at the Bouchard Finlayson Winery in the Hemel en Aarde Valley. The Hemel en Aarde Valley is a newer wine route in South Africa, known for its Burgundian style wines. Pinot Noir, Chardonnay, and Sauvignon Blanc flourish in the cool Atlantic climate. Pinot Noirs in particular are very popular, and wineries producing the wine in the region have received many honors and accolades. The Bouchard Finlayson Winery was established in 1990 and produced its first vintage in 1991. It is one of South Africa's top wineries, focused on producing the finest quality wines, with their flagship wine being the Galpin Peak Pinot Noir. At Bouchard Finlayson, you'll enjoy a cellar tour and private tasting of their award winning wines before being chauffeured to the nearby town of Hermanus, known for its reputation for having the best land based whale watching in the world, for lunch at the Royal Portfolio's Birkenhead House.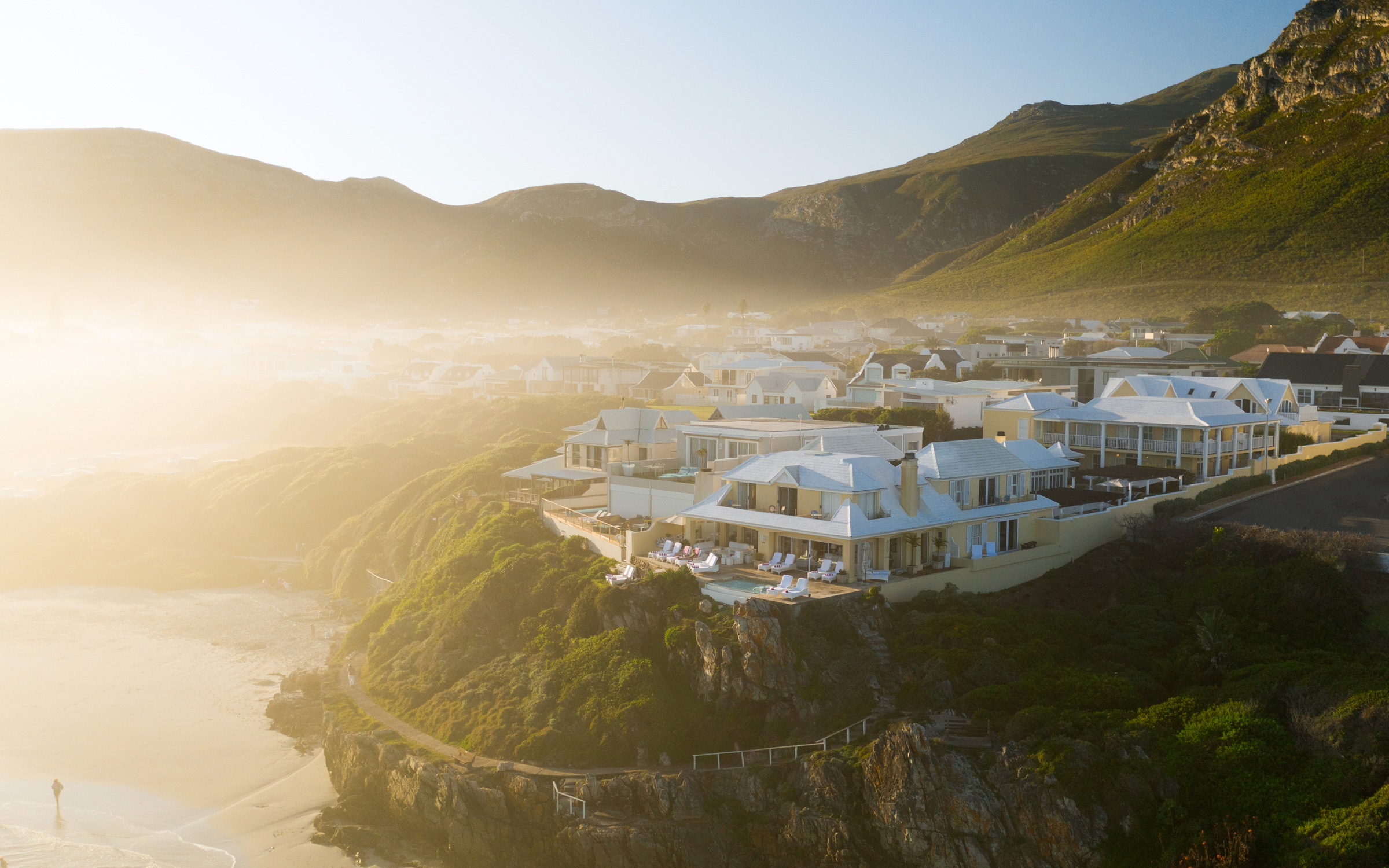 Birkenhead House is perched on a cliff overlooking Walker Bay and is a whale watcher's paradise. From the terrace, many of the rooms, and the dining room, you have a view into the bay and can frequently see whales swimming and breeching. Food at Birkenhead House is a mixture of modern African cuisine and Cape seafood with strong French, Asian, and Italian influences with the freshest ingredients. Fresh homemade breads, ice creams, and sorbets are also on offer. Enjoy your seaside lunch overlooking the bay as you keep an eye out for whales. After lunch, you have the option of returning to La Residence via your waiting helicopter or continuing your Winelands tour in Stellenbosch.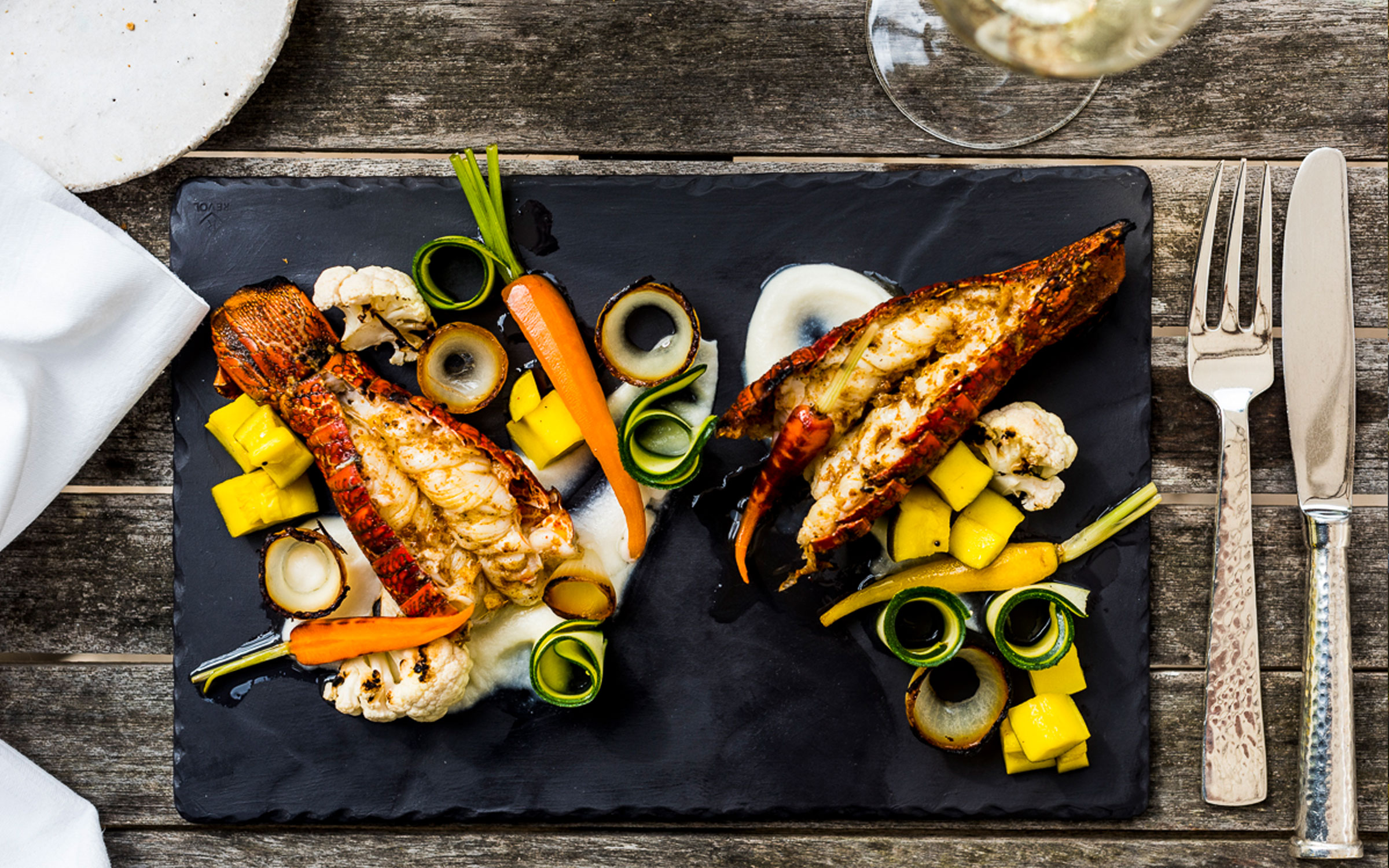 Your tour of the Winelands takes flight in a Bell Jet Ranger four-seater helicopter and is dependent upon weather conditions. Depending on whether you choose to extend your tour to the Stellenbosch region or return to La Residence after lunch, the tour is approximately seven hours. Either way, it's the best way to taste some of the country's best wine while taking in the incredible scenery of the Winelands.
For more information about adding a stay at La Residence and a winelands tour via private helicopter to your next Ker & Downey journey, contact your Travel Professional or visit us online at www.kerdowney.com. Stay up to date on all of Ker & Downey's online content by "liking" our Facebook page.