An African Safari with Ker & Downey
Some Frequently Asked Questions
An African safari with Ker & Downey is awesome. Adventure meets creature comfort on luxury African safaris with Ker & Downey. These safaris have a front-row seat to the wildlife and wonder of the wilderness, balanced with opulent places to rest and relax. Meanwhile, plunge pools and private decks make these lodges feel like a sea of comfort in the African plains and the mountains where gorillas roam. Delicious meals prepared by the on-site chefs are enjoyed with fellow guests. Afternoon tea is served with the surrounding floodplains or wide expanses as their backdrop. Luxury tented campsoffer views of wildlife nearby, the perfect place to sip on a glass of wine as you watch the beautiful sunset. In short excellent private guides and superior service combine for one unforgettable adventure. 
The continent is full of majestic wildlife, jaw-dropping landscapes, and fascinating cultures. Ker & Downey helps you narrow in on which countries to visit on your next African safari.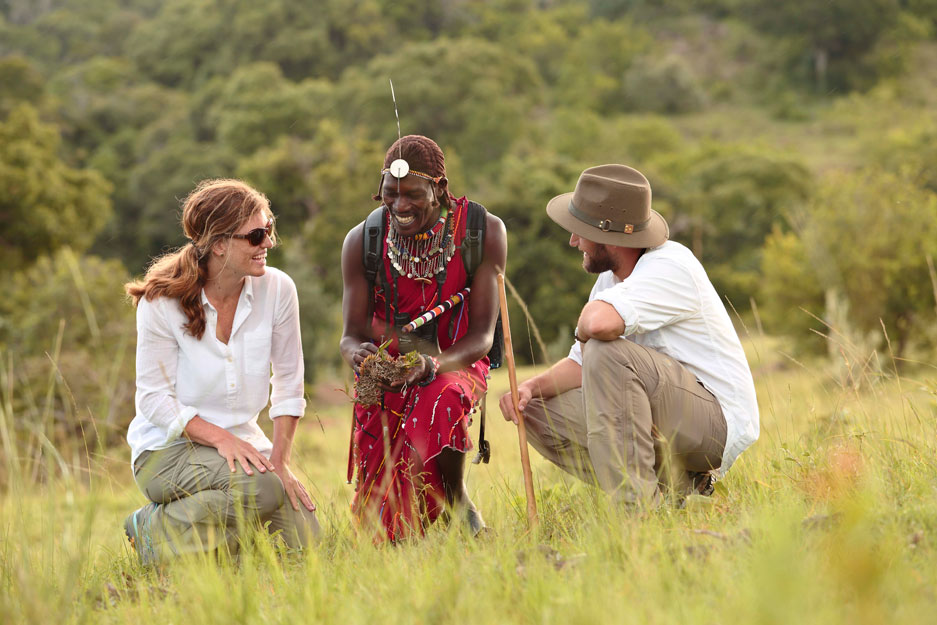 Planning Your African Safari with Ker & Downey
For many, a safari is a once-in-a-lifetime experience. But where do you even begin? There are (literally) hundreds of properties spread throughout Africa's top safari regions. And once you decide on properties, how do you even get there? Drive? Fly? 
If ever there was a time to trust a travel designer, planning an African safari is it. 
What to Know 
It's difficult to plan an African safari on your own. There are a bunch of logistics involved, including chartering planes and hiring drivers. And this is one place your GPS isn't really going to help you. 
There are also a lot of factors that can dictate when and where you go on safari. Things to think about include what wildlife you want to see, how active you want to be, what style camp you want (you can find everything from basic tents and bucket showers to luxurious and lodge-like), and who your traveling companions are. So with all of that in mind, we'll try to answer some of the most commonly asked questions about planning a safari. 
Where to Go 
Unless you are talking about a gorilla trekking safari or are on a safari to see something very specific (like the desert-adapted elephants in Namibia), there are generally two regions you need to consider for a safari: Southern Africa (South Africa, Botswana, Zambia, and Zimbabwe) and East Africa (Kenya,Tanzania and Uganda). However do not forget Ethiopia for a safari off the beaten track. Each country offers something a little different. This is where the Ker & Downey travel designers really shine when it comes to planning your African safari, combining countries, properties, and activities to craft a custom itinerary suited to your desires and needs.
When to Go 
The answer to this question is usually, "When can you go?" Most Americans will plan their safari around common school holidays like summer or the winter break between semesters. Ambitious travelers might also try to squeeze in an African safari over Spring Break. But if you have some wiggle room in your travel dates, there are some clear advantages to traveling during different seasons. 
High Season
As the name suggests, High Season is generally when most people travel on safari. Rates are at their highest, so you'll need to plan several months to a year in advance to secure your choice properties. But, it's a time when the weather is cooler and dry, the tall grasses are gone, and animals congregate around water holes, making it is the easiest time of the year to see the wildlife. Coincidentally, it coincides with the US summer holiday (between about May/June and September/October). 
Low Season/Green Season
The Green Season in Africa is the period of time that comes after the annual rains. The dry savannah has turned green and lush and the game is active. It is a season coveted by photographers for the rich colors and contrasts between the blue skies and green grasses. You'll also find lower rates, less visitors, and more available space. 
Shoulder Season
The Shoulder Season is the months that come between the high season and low season. They are the transitional months between summer and winter. At some properties, rates fall in between low season and high season prices. 
How Long?
We recommend at least 10 days for an African safari, but more time is always better out in the bush. The flights from the States are long and eat up at least a day on either end of the trip. Combined with jet lag, you'll want to give yourself ample time to really enjoy your journey. 
Is an African Safari Suitable for Kids? 
Absolutely. Safaris are an excellent option for family travel. Besides opening your children's eyes to a world much different than their own, there are many properties that cater their programs specifically to children. Some properties will take kids as young as two, while others prefer them to be a bit older. Your Ker & Downey designer will be able to decide where and when you should go on safari when you're traveling with children, but be sure to check out some of our suggestions for family safaris here. 

What Do I Pack? 
This can vary depending on where you are traveling and what activities you will be doing on your safari. Before your departure, we send you our packing suggestions based on your destination. In an interview we did with Ralph Bousfield, one of Botswana's sought-after guides and co-owner of Uncharted Africa Safari Co., he said, "It's important to be practical… I think it's great travelers go crazy about dressing the part. But all the extra accessories just to 'look good' are unnecessary. It's important to dress comfortably and to be ready to embrace the adventure." Take a look at our recommended safari packing guides (and shopping lists!) to get a good idea of what to expect when packing for safari. 
Why You Should Go on Safari with Ker & Downey 
As you can tell, there are a lot of things to consider when planning an African safari. In addition, safaris are often once-in-a-lifetime trips that come with a higher price tag than other destinations around the world. Don't you want to make sure your long-awaited trip goes off without a hitch? Ker & Downey has over 50 years of experience with creating safaris. Our designers draw on years of experience and personal relationships to craft the perfect custom journey. Their goal is to fill your travel wish list in the most efficient way possible. We're excited to work with you to plan your African safari.