9 Packing Tips to Get You Through the Airport Quickly
Is my passport in order? Do I have everything I need? How long will it take me to get through security? What if my flight is delayed and I miss my connection? Air travel might be the most stressful part of every trip. In the first post of our air travel series, we took a look at the 8 Pre-Trip travel preparations to make before you even arrive at the airport. In this post, our Air Department is sharing their top packing tips to make getting through the airport a breeze.
Disclaimer: Some of the links below are affiliate links (*). As an Amazon Associate, Ker & Downey earns a small commission when you click through and make a purchase.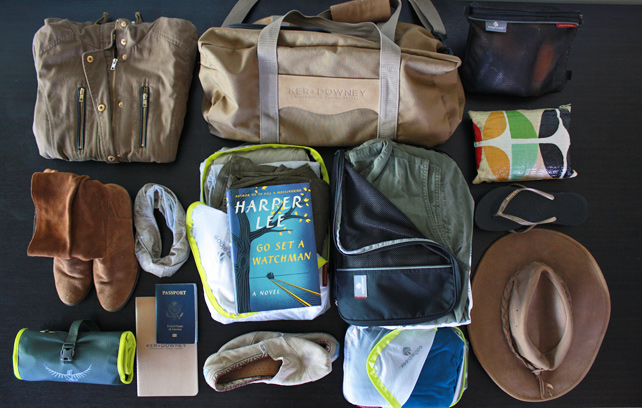 9 Packing Tips to Get You Through the Airport Quickly
1. To get through the security line quickly, be sure to follow the Transportation Security Administration's 3-1-1 rule. Liquids, aerosols, gels, creams, and pastes are limited to 3.4 ounces, packed in a single, clear, quart-sized bag. You can read more about what's permitted on TSA's website. 
2. Do not put any needed medications in your checked luggage. Instead, leave them in the original labeled containers and carry them in your hand luggage. If possible, carry a copy of the prescription with you.
3. Same goes for valuables and essential items – never pack your jewelry, passport, identification, or money in your checked luggage. Keep it with you in your carry-on.
4. Always pack a change of clothes in your carry on. In the unfortunate event that your luggage is delayed, you'll have a fresh change of clothes with you.
5. Tightly roll, don't fold, your clothes. You'll be able to fit more clothing in less space, and the wrinkles won't be as harsh once you reach your destination.
6. Use packing cubes. We recommend a set of compression packing cubes.* Simply pack your clothes, then use the second zipper to vacuum-pack the cube into a small bundle. It takes up less suitcase space and keeps you organized.
7. Now is not the time to break out those brand new shoes. Don't spoil your vacation with blisters: bring comfortable shoes.
8. Always pack a bathing suit, rain parka, sunglasses, hat, and spare prescription eye glasses. 
9. When in doubt, remember that less is best.
Our 9 packing tips are part of a series from Ker & Downey's Air Department. To see more of their tips on air travel, click here. When you're ready to get away, contact your designer to start planning your next Ker & Downey journey.